Fire Thunder S is Yoyo from Blazing Teens 2 and owned by Leon.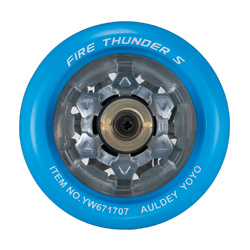 Bio Data
[
]
Product Name: Fire Thunder S
Product NO.: YW671707
Product Brand: Blazing Teens 2
Bearing System: Ball Bearing
Reverse System: PVC Stick
Body Shape: Butterfly
Material: Aluminum Alloy + PU Ring
Trapeze Width: 20mm
Weight: About 64g
Longest Revolving Time: About 2 Mins
Diameter: 57mm
Descriptions
[
]
Yoyo with unique design, unique Yoyo face and Side Bearing compatible!